Top 5 Best USB Hub for Surface Pro 4 Reviews
We have done a research and compiled the 5 best USB Hubs for Microsoft Surface Pro 4 here!
Microsoft Surface is a new hardware product line from Microsoft. Back on October, 7th 2015, Microsoft has announced a new Surface Pro 4 with an incredible technologies and improvements.
The new Microsoft Surface Pro 4 come with an incredibly portability designed, however, it has only a USB 3.0 port for connecting to your keyboard, mouse and transferring data from your devices. You will face the problems when you want to connect multiple devices at the same time.
Using USB Hubs made particularly for your Surface Pro 4 is an excellent idea. You will still happy for your portability and  enjoy an additional number of USB ports for connecting your favorite devices. Now you can find the best USB Hub for Surface Pro 4. We have done a research and compiled the 5 best USB Hubs for Microsoft Surface Pro 4 here!
1. USB Hub 3.0 With Optional External Power Supply By Juiced Systems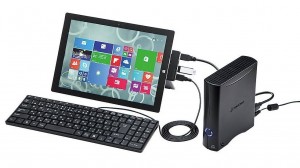 This USB Hub is a great choice for your Microsoft Surface Pro 4 because it is designed specifically for the Surface Pro 3 and Pro 4 Tablet. It has 3 full-size USB 3.0 ports that can maintain the full speed of your original USB 3.0 port on Surface Pro 4.
This USB Hub also included a micro USB port for connecting external power supply when you need more power for connecting high-powered devices such as connecting multiple external hard drives, speakers, USB fan, and so on.
2. USB 3.0 Hub with SD/SDHC/MMC4.0, Micro SD/SDHC by Juiced Systems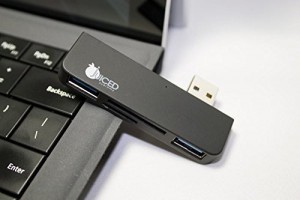 Juiced Systems also has another product that made specifically for Surface Pro 3 and Surface Pro 4. This USB Hub is a 4 in 1 adapter that includes 2 USB 3.0 ports, one SD/SDHC/MMC4.0, and another Micro SD/SDHC slot.
This USB Hub also designed with an excellent size for not blocking any ports or buttons.
3. Inateck 3 Ports USB 3.0 Hub and RJ45 10/100/1000 Gigabit Ethernet for Surface Pro Family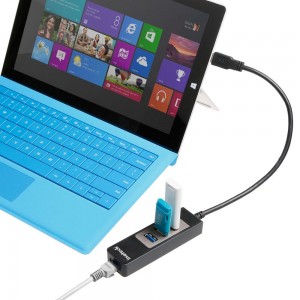 This 2-in-1 Inateck USB Hub features 3 high-speed USB 3.0 ports and one 10/100/1000 gigabit ethernet port. If you are a corporate staff or a network engineer, this USB hub will be a great choice for you because it allows you to connect to your corporate network via the LAN port. It also comes with a high quality 1 feet USB 3.0 cable.
4. USB 3.0 Hub, HooToo 7 Port Hub with 2 Smart Charging Ports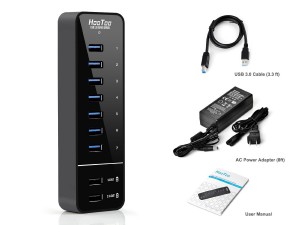 If you want your Surface Pro 4 work like a desktop PC, why don't you try a high-performance USB Hub with external power supply?
This USB 3.0 Hub made by HooToo features the 7 high-speed USB 3.0 ports and other 2 smart charging ports (1A and 2.1A) for charging your personal devices including your smartphones and tablets including iPad and Samsung tablet. It has LED for indicating power and data transfer status for each USB port. To allow high-powered devices operation, this HooFoo USB 3.0 hub come with a premium 60W power adapter (12V 5A).
5. 
Sabrent 4-Port USB 3.0 Hub with Individual Power Switches and LEDs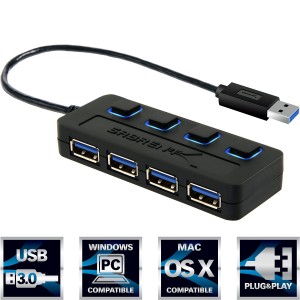 If you own Surface Pro 4 and also a Macbook, you should pick up this one. This Sabrent HB-UM43 USB hub has 4 high-speed USB 3.0 ports. It features the power switch and LED power indicator light for each USB port. It supports high-speed data transfer up to 5 Gbps for USB 3.0 and it also supports backward compatible for USB 2.0 and USB 1.1.
The overall design is about portability with dimensions of 3.4 x 1.5 x 0.6 inches and only 1.4 ounces. It's a great for usage with notebooks or tablets for attaching your favorite USB devices.
Conclusion
Those are the five top USB hubs that all of them are look and working great when you using them with your Microsoft Surface Pro 3 or Pro 4. Beside the best fit for your Surface Pro 3 or Pro 4, all of them also maintain the super speed of 5 Gbps or 625 MB/s for your data transferring.
If you are using the Microsoft Surface Pro or Pro 2, please make sure check out this Top 5 Best USB Hub for Microsoft Surface Pro Family Reviews.
Related Articles
Comments ()