Top 10 Best Surface Pro 4 Cases and Bags Reviews
From our reviews, this is the ultimate list of the BEST Surface Pro 4 cases and bags you can buy in 2016 to protect your Surface Pro 4 for long lasting use.
The latest Surface Pro 4 from Microsoft has a great design material and beautiful display. To keep your Surface Pro 4 last for long use and can protect from serious drops, scratches, and any damages, you will definitely need protection from a case or bag.
Cases and bags are not just designed for only protection but for fashion too. If you are looking for a great case or bag then allow Windows Khmer to give you a helping hand. We have compiled a list of the top rated and best Surface Pro 4 cases and bags available in term of best protection and fashion here:
1. URBAN ARMOR GEAR Surface Pro 4 Case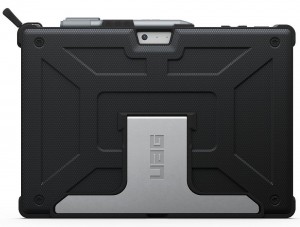 The Urban Armor Gear (UAG) Surface Pro 4 case features an extreme protection for your Surface Pro 4 from serious drops and scratches. It has built-in Surface Pen storage and an aluminum stand with 5 angular positions.
This case does not block any ports and buttons. It works perfectly with your Surface Pro Type Cover.
2. Surface Pro 4 Case, ESR Intelligent Series Folio Stand Case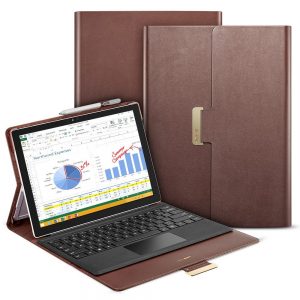 This ESR Folio Stand case is made specifically for Microsoft Surface Pro 4. With ESR's patented design will allows your Surface Pro 4 kickstand can attach to the case back cover firmly and allow angles adjustment freely. This case also features a 4 mm edge buffer design which can better protect your device from dropping and scratches as well. This ESR case lining made of wool that makes its smooth to touch and can protect the screen too.
3. MoKo Microsoft Surface Pro 4 Case – Ultra Slim Lightweight Smart-shell Stand Cover Case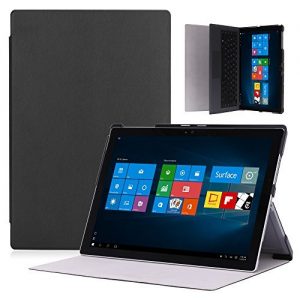 This MoKo case is also made specifically for Microsoft Surface Pro 4 with 12.3 inches screen. This case features an ultra slim and lightweight design while keeps your device attach securely. This case back cover is attaching to your device kickstand so you can adjust the device's angle freely.
This case also features a no bezels around the screen design that allow you to touch across the edge of the screen without interruption. It has a lot of options of colors and textures you can choose from as well.
4. ProCase Wallet Sleeve Case for Surface PRO 4 / 3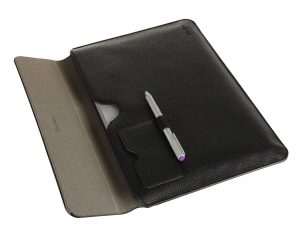 This ProCase wallet sleeve case is made to fit both Surface Pro 4 and Pro 3. The exterior of the case made from a premium composition of leather that looks stylish and can protect your device at the same time. A soft microfiber has been used as interior to prevent scratches. This case features a built-in a pen holder and a back large pocket you can keep documents, smartphones, and other small devices.
5. Inateck Felt Case for 12-Inch Microsoft Surface Pro 4 & 3 Tablets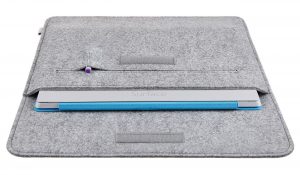 The Inateck Felt case made of high quality felt gray from outside and soft flannel from the inside. This case with a size of 13.1 x 9 inches designed specifically for Surface Pro 4 and Pro 3 and also compatible with Apple iPad Pro as well.
This case has two additional back pockets for keeping your phones, earphones, pen, other devices. It also has another pocket in front of the main compartment for storing mouse, power adapter and other devices too.
6. ProCase 12 Sleeve Cover Protective Bag for Surface Pro 4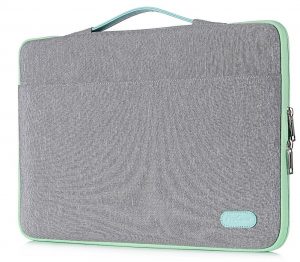 This ProCase protective bag for Surface Pro 4 is looking great for business, school and travel. This bag is slim, portable and lightweight and easy to take alone or put it in other briefcase or bag. It made of a soft and microfiber material that will protect your device from dust, dirt, scratches, bump and shock.
This sleeve bag can be opened at a free angle and has enough room for putting your Surface Pro 4 and its predecessors, and even Apple iPad Pro, the New MacBook, 11″ MacBook Air, and Chromebook Pixel too.
7. Inateck Carrying Case Protective Cover for All Microsoft Surface Pro Versions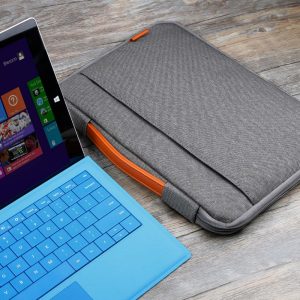 This Inateck carrying bag can protect your Surface Pro in many ways with its strong and wearable cloth outer lining. It can provide all round protection, including protection from shocking, scratching, and unexpected dropping. It also has another compartment for putting your power adapter, pen, books, and other small devices. This sleeve bag also features a customized elastic handle strap that makes it easy to take along with.
8. Evecase Suit Fabric Multi-functional Neoprene Briefcase Case Tote Bag for Microsoft Surface Pro 4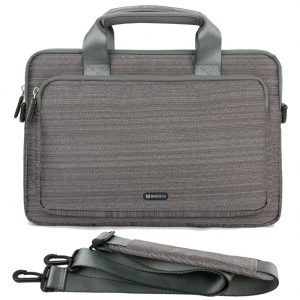 This Evecase bag is made of a stylish suit fabric-like material for external and the bubble neoprene for the interior. This bag comes with a handle and a shoulder strap easy to carry and take along with you. It has enough room to protect your Surface Pro 4 from dust and scratches and also has a large zippered front pocket to store a pen, mouse, power adapter and other accessories.
9. Evecase Shoulder Bag, Multi-functional Fully Padded Neoprene Messenger Briefcase Case with Handle and Shoulder Strap for Microsoft Surface Pro 4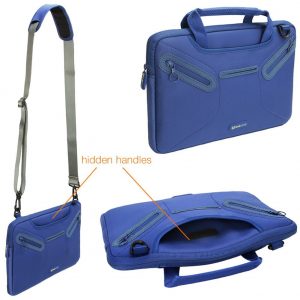 This is another bag from Evecase that features eight extra pockets for storing your devices and accessories. The main compartment has a fit room for keeping your Surface Pro 4 with Surface Type Cover securely. The interior lining made of a soft, scratch-free, fuzzy and microfiber material and exterior material made of extra-padded neoprene.
This bag's shoulder strap can be removed and the handle can also be folded away inside the pocket easy to fitting in another backpack when needed.
10. Vangoddy Surface Pro 4 Lightweight Nylon Messenger Bag Convertible To Backpack 3 in 1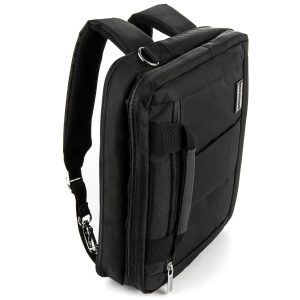 Last but not least, the Vangoddy bag  features a convertible option that can be converted into a backpack, crossbody bag messenger bag or a carrying bag. It made of a high-quality water-resistant nylon construction and a durable matte silver hardware.
Conclusion
Those are the ten top cases and bags that can provide the best protection wth a stylish design for your Surface Pro 3 and Pro 4. If you want a light-weight and a stylish design, you would probably choose a case from MoKo, ProCase, and Inateck. For the best protection, the UAG gear case seems to be a great choice as it has been tested to meets military drop-test standards.
To whom that likely to keep all important accessories along with you everywhere, you should consider the bags as it has more room for storing them.
Related Articles
Comments ()