Microsoft Released Upgrade Advisor App Preparing Your Phone for Windows 10 Mobile Upgrade
Windows 10 Mobile is the next major Windows Phone operating system upgrade. Just like Windows 10 for Desktop, for Windows 10 Mobile, Microsoft has made an app called "Upgrade Advisor" for assisting you to get ready for Windows 10 Mobile Upgrade.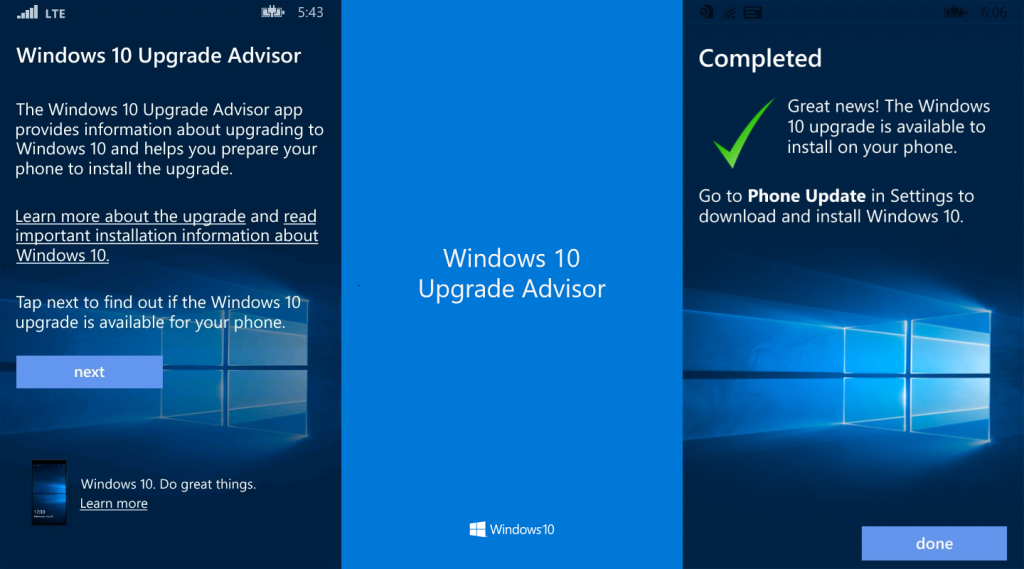 However currently, this app not available for download publicly just yet and still label as Beta. Here is the description of the app:
The Windows 10 Mobile Upgrade Advisor app will tell you if your Windows 8.1 phone is eligible for upgrade to Windows 10 Mobile. It can also help free up space on your phone so you're ready for the upgrade. When you open the app, it checks your phone and lets you know if it's eligible to upgrade, if an update is required before you can upgrade, or if your phone can't be upgraded. See windows.com/mobilespecs for more information.

If your phone is eligible for the upgrade, you may need to free up some space to get it. The app will recommend files, such as videos or photos, that you can temporarily move to OneDrive or an SD card, if you have one installed. Accept the recommendations, or change which files you want to move. You can also delete some files, if you want. If you move files to OneDrive, you need to use the app to restore files back to your phone after Windows 10 Mobile is installed.
Windows 10 Mobile is expected to release by next week, this app helps you to get ready for Windows 10 Mobile upgrade. You can check out this Upgrade Advisor on Windows Store, however, you still can't download it just yet.
Related Articles
Comments ()